Strength doesn't come from what you can do. It comes from overcoming the things you once thought you couldn't.
Disabled But Not Really's athletes are stellar!
Thanks to generous donations of time, money, and resources, we've been able to positively influence #helpmefitchallenge athletes. We're proud to brag about our athletes and share in the celebration of their humbling accomplishments. Check out our featured stories, and cheer on the athletes!
Patrick Provance
A KC native striving to maintain a positive attitude
Patrick Provance was born and raised in the KC metro area. His Spinal Cord Injury is the in the T5-6 vertebrae, affecting the muscles in the trunk of his body. When asked about how his life has changed since the injury, he said, "How hasn't it changed would be the better question." In spite of all of the changes, Patrick participated in the #HelpMeFit Challenge. The Challenge has influenced him to maintain a positive attitude, but he says it is still a work in progress.
Outside of the Challenge, Patrick is raising his daughter with his fiancé. His newfound confidence has also inspired him to work on new hobbies and career choices. Through all of this, he has realized the importance of advocating for those with disabilities. From Patrick's perspective, it is important to "give disabled people the option of what they can or cannot do instead of assuming their ability level."
Brian D. McMillan
A Texas transplant challenging perceptions
Brian D. McMillan, a former Landscape Architect, currently lives in midtown KC. It was sixteen years ago that Brian was in a motorcycle accident that caused his Spinal Cord Injury. Despite being in a wheelchair, he continued working as a Landscape Architect. And now he's enjoying retirement. Brian said his injury slowed him down and made him "more cerebral." He became more aware of how he was spending his time and who he spent it with.
The #HelpMeFit Challenge introduced Brian to Crossfit, which has inspired him to improve his athletic abilities. One of Brian's strengths is accountability, and he holds himself accountable to be at Crossfit at least three days each week. He knows it's crucial for building upper body strength to improve his quality of life. Although Brian struggles with follow through at times, he is working with a nutritionist to round out his wellness routines. He said his food diary is changing his "whole relationship with food."
Brian wants others to understand there is more to him than his wheelchair and injury. He participates "in whatever athletic endeavor" interests him—hand cycling, tennis, and snow skiing. To Brian, a disability does not negate all other abilities. It's that simple advice that he wants everyone to keep in mind.
Theodore "Ted" John
A veteran Marine advocating for compassion
Theodore "Ted" John is originally from Minnesota but has landed in KC. Ted suffers from PTSD, depression, fibromyalfia, and Gulf War Syndrome, following his time as a Marine in Operation Desert Storm. Retired through the VA, Ted now spends his time helping fellow veterans and volunteering.
One of Ted's biggest challenges has been overcoming depression, self-doubt, and self-sabotage. Ted acknowledges that in the past sometimes he wished he were dead. He said, "I still have my days like that, but they are just days instead of weeks or months." Ted's resilience and willingness to learn led him to the #HelpMeFit Challenge. The Challenge taught Ted that he is more capable than he thought. He admits that the Crossfit workouts were intimidating at first. But now, Ted said, "I just show up and give it my all and I am surprised by the results." The variety that CrossFit offers kept Ted motivated throughout the Challenge.
Ted wants others to know that disabilities may not always be readily apparent. He used to avoid public events and spaces, personal connections, or participating in society. Although he's made progress to overcome those challenges, Ted advocates for more compassion in society because, "we have no idea what others' battles are like."
Facebook: https://www.facebook.com/theodore.j.john
InstaGram: writerted
Pinterest: writerted
Snapchat: writerted / Theodore John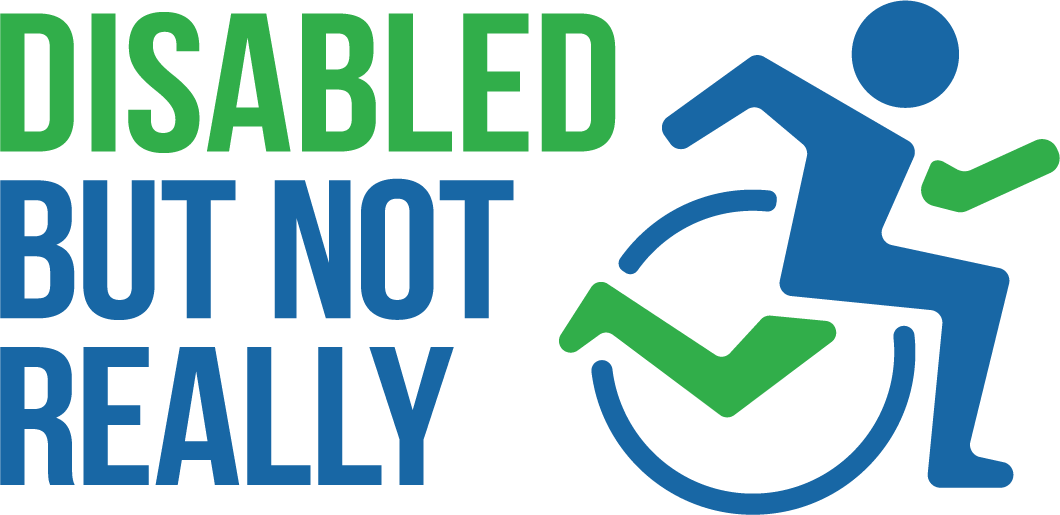 Disabled But Not Really is a 501(c)3 organization providing equal access to the underserved disabled community; through programs that focus on fitness, wellness, and mental health.