Strength doesn't come from what you can do. It comes from overcoming the things you once thought you couldn't.
Disabled But Not Really's athletes are stellar!
Thanks to generous donations of time, money, and resources, we've been able to positively influence #helpmefitchallenge athletes. We're proud to brag about our athletes and share in the celebration of their humbling accomplishments. Check out our featured stories, and cheer on the athletes!
Phillip Johnson
A courageous and persistent athlete
Born in Kansas City, Missouri, Phillip now resides in North Kansas City. Phillip battled gastroschisis after he was born and has since had amputation below the knee. But Phillip's courage sets him apart. He believes his "strength is having the heart of a lion." And we'd have to agree.
Phillip is currently attending school, playing wheelchair basketball, AND doing weight lift training. He credits the #HelpMeFit Challenge for improving his character and confidence. He finds DBNR founder, Wes Hamilton, inspiring and strives to set an equally powerful example for others. Next up, Phillip has his eyes set on adaptive competitions conscious eating habits.
Phillip wants the world to know that you should never give up. And we're so thankful for his positive mindset.
@currupted_23
Anna Sarol
A compassionate and outgoing adaptive athlete
Anna Sarol calls Lenexa, Kansas home. After a gymnastics injury in 2015, Anna suffered from a spinal cord injury (SCI) that paralyzed her lower extremities. She's proven that a compassionate and empathetic life is possible despite such challenges. While attending college full-time, Anna also works as a substitute teacher.
Anna admits that she can procrastinate, but she's also a determined individual who is good at advocating for herself and vocalizing her needs. She said, "The SCI community has always brought me a sense of belonging and has taught me ways to make the [lifestyle] transition easier." One of the main goals she's pursuing in the #HelpMeFit Challenge is strengthening her core to improve her balance.
Following the Challenge, Anna will return to adaptive sports. She believes the world has come a long way in being accessible, but she plans to continue supporting DBNR's initiatives. She also shares workout and lifestyle tips on her Instagram, so check her out!
Insta: @AnnaSarol // Facebook: PrayForAnnaBoo
Trey Matthews
A strong and determined Kansan
Trey Matthews hails from Kansas City, Kansas. Despite his paraplegic status after a motor vehicle accident, Trey strives to work out five days each week. He's still adjusting to the relatively new lifestyle, especially since he's now more dependent on others for help. But Trey looks to his mother for inspiration: "My mother showed me what hard work is about and what it gets you in life."
The #HelpMeFit Challenge has empowered Trey to learn what he's capable of and how to work out effectively so he can stay strong and healthy. He will add to the foundation he builds during the Challenge by continuing new workout routines.
Trey is on a mission to remind people that he's still the same person he was before the accident. We know he'll continue to show the value and results of putting in the effort to live a healthier lifestyle.
@Trey.matthews.528
Kassidy Reed
A funny, positive Missourian
Originally from Pleasant Hill, Missouri, Kassidy Reed now resides in Lee's Summit. She has a blood disorder and lupus, which have impacted her overall health. This unfortunately led to blood clotting issues that resulted in amputation below the knee. But Kassidy still has a helping heart, staying busy working as a home health aide and attending school for Interior Design.
When it comes to strength, Kassidy says she has good balance, but she definitely misses wearing heels! The #HelpMeFit Challenge is building up her strength, so she doesn't rely so heavily on her good leg. Beyond fitness benefits, the Challenge has helped Kassidy understand the importance of good eating habits. But she admits it's tough because she loves to snack.
All that said, Kassidy has been inspired to make fitness a priority instead of just a hobby. She chooses to see her disabilities as something that sets her apart rather than something that hinders her.
Instagram: @kasssidy.reed // Facebook: Kassidy Reed
Patrick Provance
A KC native striving to maintain a positive attitude
Patrick Provance was born and raised in the KC metro area. His Spinal Cord Injury is the in the T5-6 vertebrae, affecting the muscles in the trunk of his body. When asked about how his life has changed since the injury, he said, "How hasn't it changed would be the better question." In spite of all of the changes, Patrick participated in the #HelpMeFit Challenge. The Challenge has influenced him to maintain a positive attitude, but he says it is still a work in progress.
Outside of the Challenge, Patrick is raising his daughter with his fiancé. His newfound confidence has also inspired him to work on new hobbies and career choices. Through all of this, he has realized the importance of advocating for those with disabilities. From Patrick's perspective, it is important to "give disabled people the option of what they can or cannot do instead of assuming their ability level."
Brian D. McMillan
A Texas transplant challenging perceptions
Brian D. McMillan, a former Landscape Architect, currently lives in midtown KC. It was sixteen years ago that Brian was in a motorcycle accident that caused his Spinal Cord Injury. Despite being in a wheelchair, he continued working as a Landscape Architect. And now he's enjoying retirement. Brian said his injury slowed him down and made him "more cerebral." He became more aware of how he was spending his time and who he spent it with.
The #HelpMeFit Challenge introduced Brian to Crossfit, which has inspired him to improve his athletic abilities. One of Brian's strengths is accountability, and he holds himself accountable to be at Crossfit at least three days each week. He knows it's crucial for building upper body strength to improve his quality of life. Although Brian struggles with follow through at times, he is working with a nutritionist to round out his wellness routines. He said his food diary is changing his "whole relationship with food."
Brian wants others to understand there is more to him than his wheelchair and injury. He participates "in whatever athletic endeavor" interests him—hand cycling, tennis, and snow skiing. To Brian, a disability does not negate all other abilities. It's that simple advice that he wants everyone to keep in mind.
Theodore "Ted" John
A veteran Marine advocating for compassion
Theodore "Ted" John is originally from Minnesota but has landed in KC. Ted suffers from PTSD, depression, fibromyalfia, and Gulf War Syndrome, following his time as a Marine in Operation Desert Storm. Retired through the VA, Ted now spends his time helping fellow veterans and volunteering.
One of Ted's biggest challenges has been overcoming depression, self-doubt, and self-sabotage. Ted acknowledges that in the past sometimes he wished he were dead. He said, "I still have my days like that, but they are just days instead of weeks or months." Ted's resilience and willingness to learn led him to the #HelpMeFit Challenge. The Challenge taught Ted that he is more capable than he thought. He admits that the Crossfit workouts were intimidating at first. But now, Ted said, "I just show up and give it my all and I am surprised by the results." The variety that CrossFit offers kept Ted motivated throughout the Challenge.
Ted wants others to know that disabilities may not always be readily apparent. He used to avoid public events and spaces, personal connections, or participating in society. Although he's made progress to overcome those challenges, Ted advocates for more compassion in society because, "we have no idea what others' battles are like."
Facebook: https://www.facebook.com/theodore.j.john
InstaGram: writerted
Pinterest: writerted
Snapchat: writerted / Theodore John
Michael Minor
A KC local contributing to his community
A KC native, Michael Minor, currently resides in Waldo. Twenty years ago, a gunshot wound damaged Michael's T4-T5 vertebrae. Michael has not let his injury stop him—he's completed the #HelpMeFit Challenge and stays busy with his job in local government.
Michael said that in his life post-injury, he doubted his abilities. Yet, Michael feels thankful to have achieved more success than he ever imagined. He completed the #HelpMeFit Challenge, which he said taught him good workout techniques and increased his awareness of the important role nutrition plays. Beyond the Challenge, Michael has also established a non-profit organization, obtained a Master's degree, and worked in local and federal government.
All of these community-focused accomplishments demonstrate how Michael doesn't give up. He believes persistence is his strength. He shared that he's been trying to work on not overcommitting to projects (because he doesn't like to say no). Yet, Michael knows that there are many things worth supporting. He shared these wise words: "It's not the disability that one should focus on, but the ability of a person's focus."
Adeleke Hassan
An entrepreneur pushing past his limits
Originally from Kansas City, Kansas, Adeleke now lives on the Missouri side. He suffered from a severed spinal cord after a gunfire injury that occurred when he was 18. But Adeleke has applied his entrepreneurial mind by starting his own graphic design, vinyl, and sign shop while also going to business school. Oh yeah, and he is an adaptive athlete!
Adeleke's entrepreneurial spirit was inspired by the #HelpMeFit Challenge because the Challenge inspired him to "get involved with my surroundings" beyond the gym walls. The Challenge helped Adeleke develop a sense of pride and built his endurance to keep pushing past his limits. He said he was able to utilize the lessons and morals developed beyond the gym as he integrated them into his daily life. Adeleke's next challenge is to tackle the War Horse Games.
Setting aside his motivation to push his own limits, Adeleke said there is one thing he would love the world to know about being disabled, which is that "wheelchairs are sexy!"
Rick Haith
An adaptive athlete focusing on giving back
Although Rick Haith hails from Nebraska, he is now a Gladstone resident. The SCI injury to his T4-T8 vertebrae happened in a motor vehicle accident while he was a passenger. Since that life-changing accident, Rick has gone on to become an Adaptive Sports Coordinator for a KC non-profit called The Whole Person.
Rick explained that he led a rough life of drug dealing and addiction prior to his accident. He explained that his accident saved his life. Post-injury, Rick was inspired to attend college and to become a therapist. He considers independence, confident, goal-oriented, and empathetic to be his strengths. This is evident from all of the positive contributions Rick has made to the disabled community through his work in adaptive sports.
The #HelpMeFit Challenge encouraged Rick to be more aware of what he intakes as "fuel" for his body. He said his diet has changed drastically since the Challenge. Rick has a busy schedule and struggles to find time for himself. But he does push himself to work as hard as he can when he's in his sports chair and to eat better. Hitting up the tennis courts and focusing on his nutrition have helped Rick lose 30 pounds. What an accomplished athlete!
Katie Garcia
A KC native committing to a new journey
Katie Garcia calls Pleasant Hill, Missouri home, but she was raised in KC, Missouri. An unfortunate snow skiing accident caused Katie's SCI to her T10-T11 vertebrae. This accident greatly changed Katie's life as she is confined to a wheelchair and no longer able to work. She also encounters difficulties in accessing her family and friends' homes.
But Katie has persevered and become an adaptive athlete who does Crossfit and plays tennis. She attributes her success to her adaptability when she encounters a challenge. Katie believes it is important to not take yourself too seriously. When asked about her weaknesses, Katie said that she can be impatient and stubborn, but she does her best to help others in need.
The main reasons Katie wanted to participate in the #HelpMeFit Challenge were to become more fit and lose weight. As a result of her hard work, Katie has increased her strength, improved her diet, built endurance, and lost weight. Outstanding! Katie plans to maintain her new lifestyle and continue her fitness journey after such wonderful results. Tennis, Crossfit, and a good diet are all still part of her plans.
Katie offered this advice, "No matter what your disability, don't close yourself off to the world. It's an effort to get out of bed, clean, and dress yourself each day. But don't stop there. It's necessary to get out of your comfort zone and try new things—whether big or small."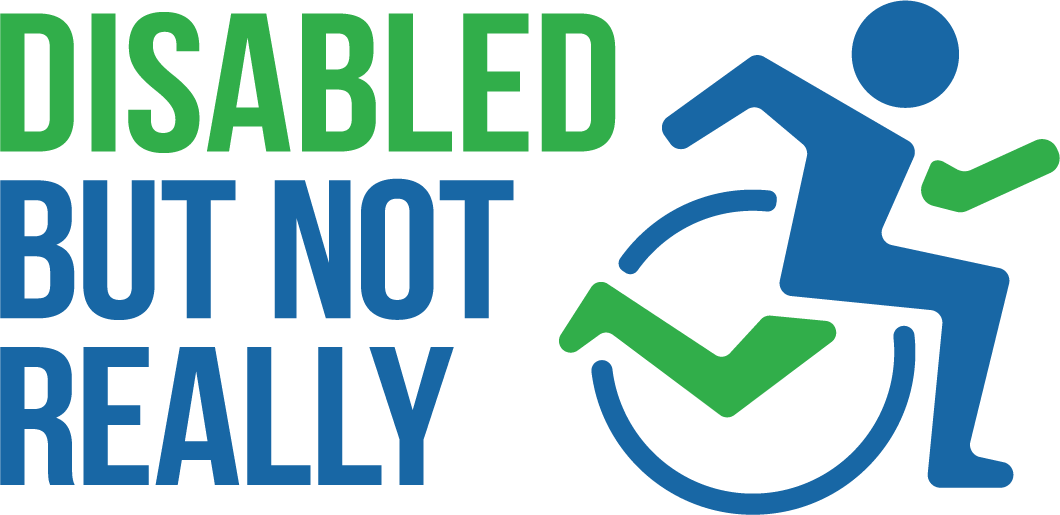 Disabled But Not Really is a 501(c)3 organization providing equal access to the underserved disabled community; through programs that focus on fitness, wellness, and mental health.
Connect With Us on Social